HOME
|
DRUMMING
|
UPCOMING GIGS
|
SILLINESS



Born, raised, and proudly residing in his hometown of Williamsport, Pennsylvania, Joel is well-known and very respected as a versatile, road-schooled drummer who has performed, recorded, or otherwise worked with countless acts over his 46-plus years as a musician. As comfortable playing blues or soul

/

R&B as he is playing jazz, reggae, latin, or zydeco, Joel's musical reputation is that of being a drummer of finesse and understated creativity, with an innate ability to improvise, a tasteful approach, keen ears, and an affable, humble persona.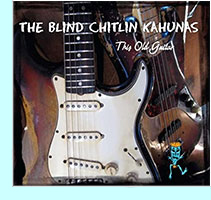 Taking up the drums at the age of 12, and primarily self-taught, Joel lovingly credits his late mother's steadfast support and inexplicable enjoyment of all that racket in the basement for what would become his life's passion. Fast-forward, and he has since relished a veritable cornucopia of memorable musical encounters with the likes of Bo Diddley, Levon Helm, Grammy Nominee Melissa Reaves, Davy Jones, Tino Gonzalez, The Spiral Starecase, Dave Keyes, Joan Osborne, and many other touring artists. Regionally, he is well-known for being a member of past acts Rubber Soul & The Helter Skelter Horns, Bluezilla, Blow Dog & The Maple Men, and perhaps his most prolific band, The Blind Chitlin Kahunas ... with whom he recorded their acclaimed, singular album This Old Guitar.

Currently, Joel performs with multi-instrumentalist, singer, and songwriter Doug McMinn in their blues band, jazz quartet, and highly popular 'jam' band Lumpy Gravy. Joel is also the "first-call" drummer in the region for both studio recording and live performances.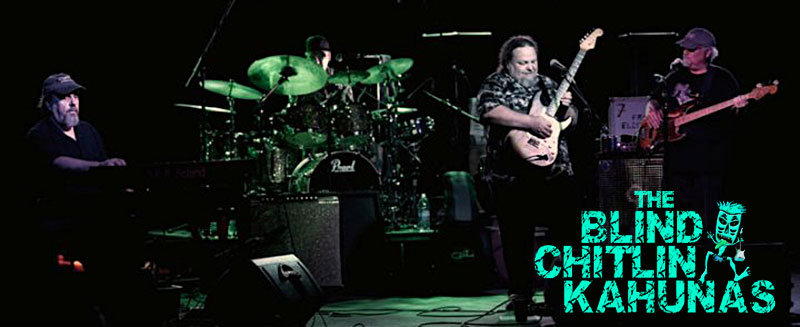 Joel cites his earliest drumming influences as John Bonham, Ringo Starr, Roger Taylor, and Ian Paice, to name a few great rockers ... but at some point during his high school years, and as his initial musical tastes expanded beyond the realms of the rock music of the day, he discovered the rhythmic joys found in jazz, R&B, funk, soul, reggae, latin, and 'world' music.

"Mom used to play old records for us ... all kinds of neat stuff ... a lot of big band jazz, steel drum bands, Kingston Trio, or Herb Alpert ... and man, did she ever love Louis Armstrong and Elvis Presley. All of it was hiding in my subconscious, I'm sure, just waiting until I grew out of playing Aerosmith, KISS, or Jimi Hendrix songs with my high school buddies. But, it was actually my sister that I should thank for 'opening my ears' as well ... because I clearly remember hearing Parliament Funkadelic emanating from her room and thinking I had just discovered some secret of the universe [laughs]."

"For me, the 70s & early-ish 80s were the most phenomenal time for modern music, and not just with the explosion of jazz fusion led by Herbie Hancock, Chick Corea, Stanley Clarke, Mahavishnu, etc ... but because the seeds sown by the innovators of the 40s, 50s, and 60s had taken serious root and all music was branching out like crazy. Weird example, maybe, but I starkly remember hearing Andrew Gold's '76 or '77 hit Lonely Boy and thinking how cool it was for a Top-40 tune to be primarily in odd-time. It was a perfectly crafted pop tune ... not unlike Love Will Keep Us Together from Captain & Tennille. Don't laugh at me! With too many pop songs, especially today ... bridges or solo sections are lame afterthoughts. By the way, Gold's follow-up hit Thank You For Being A Friend was also really cool. Nowadays, of course, folks only think that song is the theme from 'The Golden Girls' [laughs]."

His list of impactful personal influences grew across the board to include the likes of Maurice White, Dennis Chambers, Joe Morello, Rod Morgenstein, Danny Barcelona (Louis Armstrong's long-time drummer), Billy Cobham, Simon Phillips, Vinnie Colaiuta, David Garibaldi, Terry Bozzio, Bill Bruford, Gene Krupa, Kenny Aronoff, Ed Thigpen, Steve and Jerry Marotta, and many, many others ... but perhaps none were more influential to Joel than Stewart Copeland of The Police and Toto's Jeff Porcaro. "Copeland and Porcaro definitely shaped my personal drumming style the most, I think ... with maybe a hint of Bonham and a few other guys hiding in there somewhere."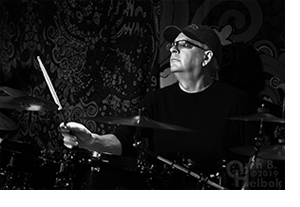 As much as he deeply appreciates the technical prowess of so many drumming greats ... it's the ones that 'just keep it deep in the pocket,' as Joel says, that speak the loudest to his musical sensibilities. In his words, "I'm always completely impressed by the amazing skills of guys like Dave Weckl, Chris Coleman, Marco Minneman, Vinnie Colaiuta, Larnell Lewis, Sput Searight, and their contemporaries, of course, but it's much more so the drummers that can just groove all day & night long that have inspired me the most along the way. Bernard Purdie, Levon Helm, Richie Hayward, Steve Gadd, Jim Keltner, Jim Gordon, Jabo Starks, Clyde Stubblefield, Frank Beard, Steve Jordan, Ricky Fataar, Al Jackson, Jr. and so on ... they just play ... and although they also have absolutely incredible 'chops' in their own right, they play for the song and just make it feel so damn good. Rock-wise, Bun E. Carlos was always a bad ass to me, too, and Frank Beard from ZZ Top. Bill Gibson from Huey Lewis' band always impressed me as well, for just being rock solid and creating perfect drum parts for every song. Ricky Fataar's truly creative playing with Bonnie Raitt and others is another exceptionally great example ... as is Little Feat's Richie Hayward (RIP)."

"But then there was Levon, rest his soul ... whom I had the privilege of meeting and befriending while working as his drum tech on a couple of unforgettable occasions. Easily one of the sweetest, most magnanimous guys in the world, but his drumming style was so unique and passionate ... and try as hard as this or any drummer might, it just can't be duplicated, man ... like Ringo Starr. I mean this in the most complimentary of ways, but Levon played with this kind of sloppy, behind-the-beat style that moved me ... like a perfect combination of old-school blues, rock, and New Orleans 'second line' stuff. I've spent years trying to cop that vibe."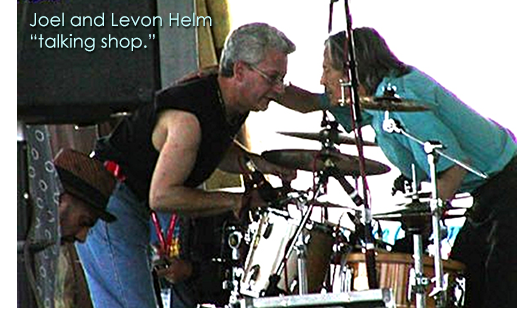 Surprisingly not a big fan of drum solos, Joel has always preferred to have his percussive fun within the songs ... where he believes true creative expression lives. He showcases his talent and influences without sacrificing the groove, if not actually enhancing it. Joel's most noticeabe drumming traits are a very quick right foot on the kick drum and his seemingly effortless work around the kit with the sticks.

"With Bonham being such a big influence on me early on, I've always been highly focused on the kick drum, and I've only ever played with a single pedal. Having double bass drums, or using double kick pedals as it mostly is these days ... it can be super-cool in the right places or in genres like metal or fusion ... but it's not really for me, personally. I think the kindest nod, when it comes to my kick drum work, was being given the nickname 'Thunderfoot' by a band I was touring with a long time ago ... but it's a compliment that I honestly cherish. Thanks for that, Skip Henderson! Although, living up to that nickname as I've gotten older isn't exactly easy anymore [laughs]."

"My other favorite compliment throughout all the years came from my great pal Sean Farley, who's an incredible guitarist, songwriter, and singer that I think very highly of and always love playing with. Sean told me that watching me play was like watching a calligrapher. I laughed at first, because most of our compliments to each other are, in fact, good-natured insults [laughs] ... but he really did mean it, and it was completely heart-warming."

Joel is also well-known as being the kind of drummer that can sit in with almost any band on a moment's notice, without rehearsing, and sound as if he'd been playing with the band for years.

"I think the two biggest things that drummers don't think about enough are dynamics and listening. If you're in a band, it's not about you ... it's about the band, it's about the songs. And, it's about listening when the other musicians are 'speaking.' When the guitarist or keyboardist or saxophonist takes a solo, that's his or her time, not yours. Listen to what they're doing and complement it. Follow them. Know when to let loose, and know when to lay back ... because knowing what or when not to play is just as important as anything else. If you're in any situation requiring improvisation ... play tentatively, but play with purpose ... antennas up."

"I think I probably enjoy playing in the blues or blues-rock genres the most these days, and that's because you get to play a little of everything within that ... not just traditional old Delta blues ... but funk, swing, rock, Nawlins 'second line,' soul, jazz, R&B, you name it. Modern blues music touches on all of that ... although I admittedly live for any chance to get a little funky. Funk and R&B and soul (especially horn bands) has always spoken to me big-time."


Though not an official endorser for any brand of drum gear (yet?), Joel uses and swears by
Pearl Drums
,
Vater Drumsticks
,
Evans Drumheads
, and
Protection Racket Cases
... but his taste in cymbals varies greatly.

"I've been playing Pearl drums since the late 80s, and I still love everything about them ... from the shells to the hardware ... especially my Masters Custom Maple kit that I've had for quite a few years now. Pearl's hardware is awesome and infinitely flexible. I also love Evans drumheads, and have been using them for at least 30 years. Heads are a huge part of any drum's tone ... especially when it comes to tunability. Evans drumheads are always consistent and reliable, they sound and feel great, and I don't think I could live without the Genera Dry heads on my snare!"

"Vater drumsticks are the only sticks I'll use, too ... Sugar Maple 'Fusion,' to be exact. I just find them superior. I can buy four pairs and they'll last me for, like, a year. Granted, I don't break sticks very often, because it has a lot to do with how you play ... although I do whittle 'em down pretty good [laughs]. Oh, and Vater's 'Slick Nut' cymbal clamps/nuts are the greatest freakin' thing since sliced bread. If I had a dollar for every time I lost an old-style cymbal wing nut down a crack in a stage, I'd own a private island by now ... not to mention saving hundreds of hours from spinning threaded wing nuts off and on and off and on again."

"Early on, I had plenty of Zildjians and soon after became a huge fan of Sabian cymbals ... but I've never really been a die-hard 'cymbal brand guy' like many drummers can be. A good cymbal is a good cymbal, and they should serve a purpose or create a vibe. So consequently, I have a lot of cymbals [laughs]. Istanbul and Bosphorus cymbals always really impress me, but then again ... a $35 Wuhan 14" China cymbal can be the coolest thing ever in the right place."

"As for drum & cymbal cases, it's Protection Racket bags for me, hands down. They're the best out there, in my humble opinion."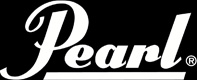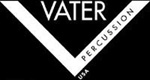 "Hmm, let's see ... off the top of my head ... The Beatles (always first and foremost), Led Zeppelin (the greatest rock band ever), Earth Wind & Fire, Tower Of Power, The Police (and Sting), Toto, The Meters, ZZ Top, AC/DC, The Tubes, The Band, The Pretenders, Steely Dan, The Nighthawks, YES, Rush, Louis Armstrong, Dixie Dregs, Parliament Funkadelic, Frank Marino & Mahogany Rush, Elvis Presley, Peter Gabriel, Genesis, Level 42, Stone Temple Pilots, King Crimson, The Fixx, Stevie Wonder, Glenn Miller, Kool & The Gang, CCR, Missing Persons, Pete Fountain, Deep Purple, Boz Scaggs, Prince, Dave Brubeck, The Fabulous Thunderbirds, Pink Floyd (and David Gilmour), Stanley Clarke, Sonny Landreth, James Brown (and Maceo Parker), Bonnie Raitt, Patti LaBelle, The Cars, Spyro Gyra, Elvis Costello, Living Colour, Miles Davis, The Time, Preservation Hall Jazz Band, The Smithereens, Adrian Belew, Los Lobos, ABBA, Pat Travers, The Clash, Grand Funk Railroad, Pete Townshend, Michael Jackson, Johnny Cash, Rage Against The Machine, Will Smith, Run DMC, Huey Lewis, Bela Fleck, Government Mule (and Tedeschi/Trucks), KC & The Sunshine Band (yeah, yeah, bite me), Jeff Beck (the man!), old acquaintance Tino Gonzalez, and my girl Melissa Reaves ... and somewhere around 837 others. Sheesh, last night I listened to Herb Alpert & The Tijuana Brass just for fun. Good music is just good music. I've always really dug old-school R&B or soul stuff ... like Al Green, Barry White, George Benson, Grover Washington Jr, Chaka Khan (and Rufus), Isaac Hayes, Bill Withers, Tina Turner, Luther Vandross, and on and on. I'm especially a big lover of 'horn band' stuff like TOP, Kool, EW&F (Phoenix Horns, yo!), AWB, Chicago, and the Memphis Horns on pretty much anything they did with Stax. Like, how could you not hear 'Jungle Boogie' by Kool & The Gang or TOP's 'What Is Hip?' and not feel completely funkified?"

"My favorite musicians to work with all live right here in Williamsport, Pennsylvania. I'm serious. We are blessed with a musical community that's just amazing and talented beyond belief. My cohorts have worked with countless well-known artists, recorded great stuff, or toured all over. Sometimes, I'm playing alongside people who have played at the White House or with Aretha Franklin or Maria Muldaur or Buddy Rich. And, I think I'm a better drummer for having the opportunity to grow and learn from not just incredible musicians, but good friends that coached me along the way. As a much younger drummmer just starting to dip my feet in the 'jazz pool,' I clearly remember a wonderful compliment from my good friend Dick Adams ... an amazing saxophonist and hilarious guy. He told me that I had all the right tools in my toolbox, and all I needed to do was get comfortable using them."

"I couldn't even begin to list the area musicians that are just unbelievable players, songwriters, or singers. We're talking dozens upon dozens. You can't swing a cat without hitting a great musician around here. In fact, a lot of my best friends, going back to elementary or junior/senior high school ... Dave Brumbaugh, Bob Yoas, and Tim Breon, in particular ... are also fellow musicians that I still get to play with to this day. I'd like to think that says a lot. I also have to give a shout-out to my home-slice Kimbo Reichley. He's a bad, bad man on the bass, in addition to running his own recording studio and doing solo acoustic shows. Kimbo and I were part of The Blind Chitlin Kahunas ... along with monster keyboardist Webb Kline and the maestro himself, Chris Bovard ... who is, to this day, the finest blues-rock guitarist I've ever had the good fortune to play with .... or for that matter, ever heard."

"I've also been humbled whenever I'd get a call to sub for one of my local drumming heroes like Bobby Leidhecker or the late Steve Mitchell. Bobby's the man ... probably my biggest local influence ... and he's toured with Empire Brass and laid it down for tons of other touring artists. He can read and play drum charts on the fly like they're a children's book. And Steve Mitchell, another dear friend who I miss terribly ... he was just a renaissance man through and through. Toured with Van Morrison, played with Phil Lesh and Lou Rawls ... and it's Steve playing on a bunch of the Charlie Brown cartoon music. Crikey, he even inspired Jim Henson to create 'Animal,' the crazy drumming Muppet, because of his wild hair and big beard that would flap all over the place when he was gettin' down."

"Believe it or not, I've honestly never really suffered from 'stage-fright' in all my years of drumming. I love performing for people, whether it's 20, 200, or 2,000. But ... there WAS one night that I couldn't have been more nervous. I was playing here in Williamsport at Franco's Lounge, a staple of the local scene and easily one of my fav joints anywhere (order the Shrimp Gaeta and thank me later). So anyhoooo, Aretha Franklin was playing up the street at the Community Arts Center that night, and after that show let out, a whole lot of people started filtering in looking for another dose of live music. I didn't notice it at first, because I have a terrible habit of digging in and not looking up much ... but a dude had walked in and parked himself at a barstool directly in front of the band. I finally glance up, and there ... six feet in front of me ... was Bernard Purdie. Bernard freakin' Purdie. It's like I suddenly forgot how to play drums, and of course he's watching the drummer. Me. Ugh! But, I eventually noticed his head bobbing to the music, and we wasn't grimacing, so I felt a little better [laugh]. Then, a bit later, Aretha's son Teddy got up to join us ... he was her guitarist on that tour ... and it was all really cool from there out. But sheesh ... to have one of your biggest drumming idols sitting right in front of you can be a tad nerve-wracking!"

"I've been extremely fortunate over the course of my drumming career, because almost all of my so-called 'brushes with greatness' ... pun intended ... have been a matter of being in the right place at the right time with the right people. Getting to play with Bo Diddley was exactly like that. He was touring with The Rolling Stones at the time, but picking up solo shows in between and he needed a band. My lifelong friends Dave Brumbaugh, Bob Yoas, Tim Oliver, and I ... we got the call, thanks to a hearty recommendation by some good friends who owned a venue that booked Bo. What ensued was nothing short of magical. Bo was so generous, funny, and cool ... but I remember being a bit frustrated, because I had practiced every variation of the famous 'Bo Diddley Beat' beforehand ... and every time I went there, Bo would turn around and say 'No, man, just play it funky.' Eventually, he gave in 'cuz he knew the crowd was dyin' for it [laughs].'"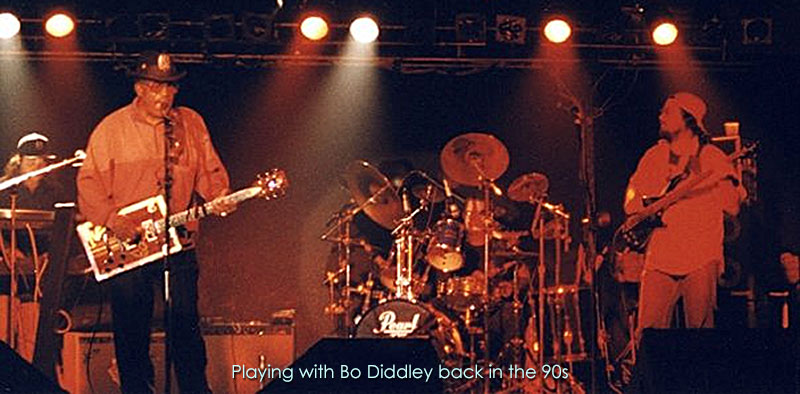 "A lot of such moments for me were like that ... just lucky happenstance. I mean, I first got to play with Joan Osborne because her drummer's flight was delayed or something, and I was already there to run sound and provide the drumkit. And the second time was purely because of the first time. Really awesome lady, by the way."

"Playing with Davy Jones (of The Monkees) was a bit different, in that I was part of a large ensemble and on percussion ... timbales and assorted thwacking and shaking implements (and lots of cowbell, of course). Davy lived here in the area on his horse ranch, and we'd do these big, annual variety shows hosted by local radio guru Gary Chrisman, and Davy was often a part of them. What a hilarious, charismatic, and truly genuine guy. It's no wonder millions of women threw themselves at him where ever he went. If I didn't know any better, I'd swear Dudley Moore modeled his movie character 'Arthur' after Davy. He was just too damn cute [laughs]. But those shows were especially awesome because it was also like 'old home week' with the collection of regional veteran musicians on stage. Pure, unadulterated fun ... despite the countless rehearsals [laughs]."

"Playing at The Bitter End in Greenwich Villlage with Melissa Reaves was always a great time, even if we barely made any money. I think the first time my cut was literally, like, $23 (and actual change) ... which payed for about three Rolling Rock beers [laughs]. Then again, any gig with Melissa has always been more than special. One of our nights there was really cool, because Will Lee's band was on after us ... but damn, that place, for all of its charm and history ... they really need to work on their bathrooms. One time, the toilet seat was broken off and actually in the toilet bowl [laughs]."

"I always loved the Central PA Jazz All-Stars benefit concerts that my friend Bobby Leidhecker used to organize, too. Awesome musicians from all over the state would gather to help raise money for charity. Of, course, my gigs or encounters with the 'well-known' artists were particularly memorable, mostly because of how much I learned from those experiences. Working for Levon Helm always sticks out after all these years, especially on his 'Howlin' For Hubert' tour ... when his bandmates included the likes of guitarist Jimmy Vivino and singer David Johansen, and of course, blues icon Hubert Sumlin. Levon also had the absolute best weed in the world. Wait, can I say that here? [laughs] "

"I also really dug opening for Tower Of Power a bunch of years ago and getting to sponge up Dave Garibaldi's licks from side-stage, because they're one of my 'top five' favorite bands of all time. Opening for Cheap Trick was pretty damn cool, too ... again, because I'll always love that band. Rick Nielsen was really cordial to us. Another great opening act slot was alongside Johnny Winter, Rick Derringer, Edgar Winter, and Kim Simmonds & Savoy Brown. Talk about a lineup? All of those shows happened when I was with The Blind Chitlin Kahunas ... which, to this day, is probably my favorite band I've ever played & recorded with. I actually still listen to our album 'This Old Guitar' on occasion. Incredibly gifted musicians and phenomenal friends."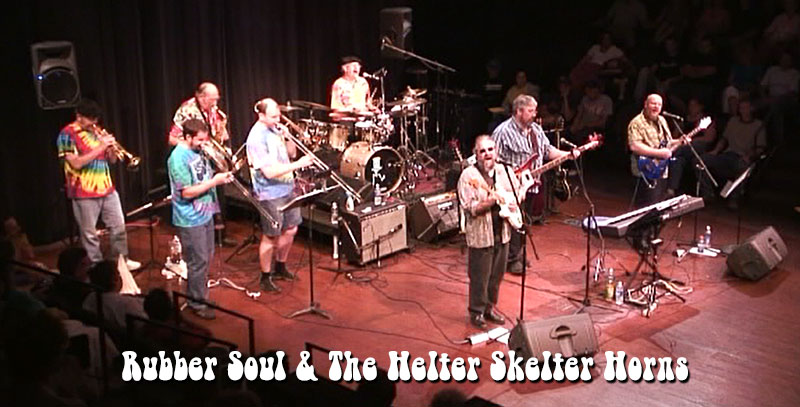 "Playing with my Beatles homage band 'Rubber Soul' was also an absolute thrill for me, because my best friends Dave Brumbaugh and Bob Yoas were the other key members, along with a rotating cast of great characters over our 16 -year run. We did our own thing with the songs and took a lot of liberties with them ... rockin' things up and creating cool medleys, kind of like what 'The Fab Faux' does ... an awesome band led by bassist Will Lee. I even got to SING in that band, which I kind of miss. Anyhoo, I was always amazed by how many really young kids would dig our shows, and sing along with every song ... and they probably knew the lyrics better than we did [laughs]. It's also pretty special that Dave & Bob are my oldest friends, and we formed our first-ever band together, 'Nightrider' (along with Beau Bodine), back in the late 70s. You can't buy that kind of friendship, let alone hope for it ... and none of us has ever taken it for granted."

"Almost too many great memories, really. I've been extremely lucky. I learned soooo much from working in some killer R&B bands way back in the day ... not just about being a better drummer, but about the music biz, in general. Gotta give big shout-outs to my cherished friends Freddie Wright (rest easy, brother), Skip Henderson, and Loni Gamble for putting their faith in this nerdy white guy to keep it funky."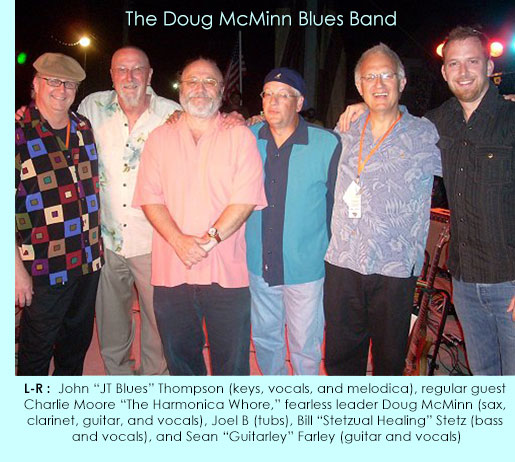 Nowadays, Joel couldn't be happier performing regionally with long-time musical comrade Doug McMinn in several different band incarnations.

"I'm a huge Doug McMinn fan. He and I have been playing together for well over 30 years now ... and he's a wonderful guitarist, singer, saxophonist, and clarinetist ... not to mention just being a wonderful friend. We've played jazz, blues, rock, all kinds of projects ... and up until Covid changed the world as we know it, our jazz quartet played every, single month at Bullfrog Brewery in Williamsport for 21 years. Man, how time flies when you're having fun!"

"We also have a serious blast with our jam band Lumpy Gravy, along with Owen MacDonald and Jimmy Fuckin' Lovcik. That's Jimmy's name to everyone that knows him well, so don't fault me for the 'F-bomb' [laughs]. And of course, we have massive amounts of fun doin' our blues thing with usual suspects John 'JT Blues' Thompson on keys and Bill 'Stetzual Healing' Stetz on bass, and a rotating cast of guitar characters like Sean Farley or Willi 'Two Guns' Ort. Sorry ... inside joke about Willi there [laughs]."


"There have been some doozies over the years, but mostly (and thankfully) the so-called bad gigs were because of poor venue management, crossed wires in communication, or usually, just things accidentally going wrong that ended up being funny stories down the road. But, there were two gigs that will always stick with me as just plain, old awful."

"The first was a show that my friend Tim Breon and I were hired on for ... backing a Hank Williams, Jr. impersonator at a dinky, little carnival in the middle of nowhere ... and the dude took the part to heart just a bit too much. Drinking, beligerent, full of himself, and so on. Musically, the guy was clueless, too, and the show was a train wreck. Then afterward, he tried to stiff us on our money ... which we finally got, thanks to the guy's keyboardist / manager, but that turned into a fist fight between them ... so Tim and I slinked off and literally left them in their own dust. One awesome thing came of that, though ... because the ding-dong couldn't remember our names to save his life, but his drunken attempt at introducing Tim created a nickname that has lasted to this day. Ladies and gentlemen, I give you my dear friend ... Ted Bleen."

"But personally, my worst gig was in Youngstown, Ohio way back in the late 80s, while touring with an act called Finesse. It was a cool, little trio comprised of me, keyboardist Bobby Jones, and ever-charismatic singer Skip Henderson. Man, Bobby was a bad-ass from Detroit who worked four keyboards like a twelve-armed octopus. You would have thought the band had six musicians. Anyhoo, I digress. Skip always used a wireless mic, and this one night he boogies through the room, working the crowd like always, and then settles down next to one of the servers sitting at the bar after she'd finished her shift. The hotel owner totally freaks out and starts screaming ... because a black man dared to sing to a white woman. I couldn't believe what I was seeing and hearing. The idiot went on to call me a "token white boy" and use every disgusting, derogatory term he could toward my bandmates ... and all right in front of a room full of people. I've seen my share of overt and pathetic racism, but that was nauseating. Bobby and I were ready to go at the guy, but Skip dug into his graceful inner calm and hurried us to pack things up, ignoring the dude as best he could, and we bolted like lightning. Ugh. To this day, I can't travel past Youngstown without thinking about that debacle."

Joel has performed on stage or recorded with such well-known artists as Bo Diddley, Davy Jones (The Monkees), Grammy Nominee Melissa Reaves, The Spiral Starecase, Steve Lambert (Roman Holliday), Joan Osborne, Dave Keyes (Popa Chubby, Ronnie Spector), Tino Gonzales, harmonica great Corky Siegel, The Nighthawks, EG Kight, David Rose, Ann Rabson, Jerry Portnoy, foremost Dolly Parton tribute artist Sandy Vee Anderson, Tas Cru, Vanessa Collier, Bob Margolin, Kelly Richey, Mike Mettalia & Midnight Shift, Rockin' Johnny Burgin, and more.

Joel's past musical projects over the years include The Blind Chitlin Kahunas, Rubber Soul & The Helter Skelter Horns, Blow Dog & The Maple Men, Bluezilla, The Goods, Gabe Stillman & The Billtown Giants, Rhythm Face, Loni Gamble & Sound Cheque, Bop Top, The Freddie Wright Band, Prism, The Ken Wittman Trio, Three Blind Mice, Finesse, Prince Charles & The Royaltones, Sue Bloom, Loose Ends, and more. He also famously (or infamously) ran one of the first and most successful 'open mic nights' in Williamsport for over eight years at popular 'watering hole' The Pub.

His own bands have shared stages with the likes of Tower Of Power, Levon Helm, Cheap Trick, Johnny Winter, 38 Special, Rick Derringer, David Johansen, Kim Simmonds & Savoy Brown, Edgar Winter, The Nighthawks, Canned Heat, Robbie Nevil, Hubert Sumlin, Joe Louis Walker, Luther Allison, Barrence Whitfield, Billy Price, Harper & Midwest Kind, Alexis P. Suter, Samantha Fish, Big Bill Morganfield, Eddie Shaw, Eden Brent, Cedric Burnside, Toronzo Cannon, Tom Larsen, and many more.

Aside from his own projects, Joel has also performed or recorded regionally with Kimbo Reichley, violinist David Rose (RIP, sweet man), Hannah Bingman, Jason Hagen, Averie Clark, George Wesley (also RIP), Ann Kerstetter, Jeff Fetterman, and Tony Harlan, to name but a handful ... and he's been the 'first-call' fill-in drummer with local favs Family Ties, The Flipside, Lynn & Farley 5, Jazzin', Black-N-Blues, Voyage, Dead Flowerz, and Flu Shots, among lots of others.

As a 'drum tech' or stagehand, Joel has had the privilege of lending support (and often his own drums) to such artists as Levon Helm, The Pretenders, Joan Jett, John Waite, Joan Osborne, Patty Smyth (Scandal), 38 Special, Kansas, The Hooters, The Nighthawks, Alexis P. Suter, and lots of others ... including dozens & dozens of phenomenal blues artists during his stint as the drum tech and assistant stage manager for the
Billtown Blues Festival
for 16 years.

In his words, "I'll always love providing my drums or stage experience for a show. Not only do I get to meet and hang out with really cool fellow musicians, but kind of selfishly ... I love hearing my drums played by others, especially if I did my job right and they sound great out front. That's why I always love doing split bills with The Nighthawks, because my buddy Mark Stutso is such a wonderful drummer (and a phenomenal singer to boot!) and it's awesome to kick back and watch him play on my drums. Of course, he just likes it because he doesn't have to drag his own kit out of the van [laughs]."

"But, my personal highlight in regard to playing drum-tech has to be working with Levon Helm, and I think about him a lot when I'm playing, since he actually played on my kit on a couple of occasions. I mean ... Levon Helm played on my drums! I'll take that all day long when it comes to my memories as a drummer."

And, there ya have it. For now ...

FROM JOEL - I wholeheartedly thank my dear friend David Pulizzi (former Managing Editor, Jazziz Magazine)
for his invaluable input, wisdom, friendship, and support in crafting my drumming bio. You're a good man, D.

HOME
|
DRUMMING
|
UPCOMING SHOWS
|
SILLINESS

JoelBVincent.com & Vinsense Creative Development © 2021 | Joel B Vincent © 1962 by Patricia Vincent

Still miss you every day, Mom